MetaStock Real-Time™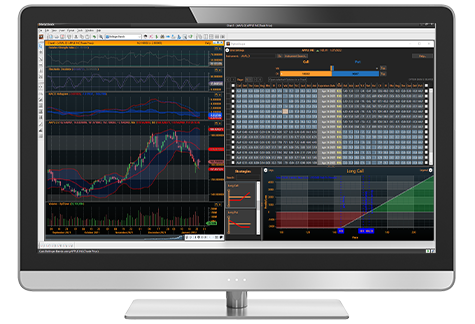 MetaStock Real Time (formerly MetaStock Pro) is specifically designed for real-time traders who use intra-day data to transact in real-time throughout the trading day (Interested in end-of-day trading? Check out MetaStock Daily Charts). Whether you're an experienced, active trader or just learning how to trade the markets, MetaStock Real Time helps you succeed. The software contains powerful analysis tools to help you make informed decisions about what to buy & sell and when to execute to make the most money possible. MetaStock Real Time comes with many out-of-the box trading solutions that are reliable and easy to use. And if you want to take your analysis to the next level, MetaStock Real Time gives you the ability to customize these solutions to your particular trading style.
MetaStock is a Sales Agent for this Refinitiv product, XENITH. Refinitiv provides the best global data for MetaStock clients. MetaStock R/T is the product that provides powerful charting for the XENITH platform. That is why we are so excited to team up with them. MetaStock Real Time is powered by the incredible Refinitiv XENITH Real-Time Data and News package. Refinitiv XENITH fuses the information, tools and analytics you need into a single desktop customized to the way you work. You can use the many pre-defined screens, like the "equity trader" screen, or easily customize your desktop to view the content you use most often.
Whether you trade stocks, bonds, mutual funds, futures, commodities, FOREX, or indices, MetaStock has the tools you need for superior market analysis and financial success. In fact, 84% of our customers report that they have been successful using the MetaStock software! Here is what one of our customers has to say about MetaStock:
"MetaStock is obviously made by people who understand traders' needs. It's a complete package that's easy to use, no matter what kind of securities you trade. It's the single tool that's allowed me to fine-tune my trading approach, pursue my avocation and build a satisfying retirement."
- Michael Alakel
To see more of what our customers have to say about MetaStock Real Time, click this link to our Testimonials.
MetaStock R/T is available as a subscription or as a one time purchase. MetaStock R/T is powered by XENITH data and requires a XENITH subscription to operate.
Software subscription only: Requires a separate XENITH Subscription
Software Only - One time purchase: Requires a separate XENITH subscription
Order Now!
Software subscription only: Requires a separate XENITH Subscription
Software Only - One time purchase: Requires a separate XENITH subscription
Overview Features Help & Support FAQs System Requirements Pricing
We invite you to try out any MetaStock product (including Add-Ons) for 30 days. If you are not convinced that it helps you make more accurate, educated trading decisions, just return it to us within the 30 days for a refund of the purchase price. It's that simple. This policy does not apply to subscriptions.