MetaStock D/C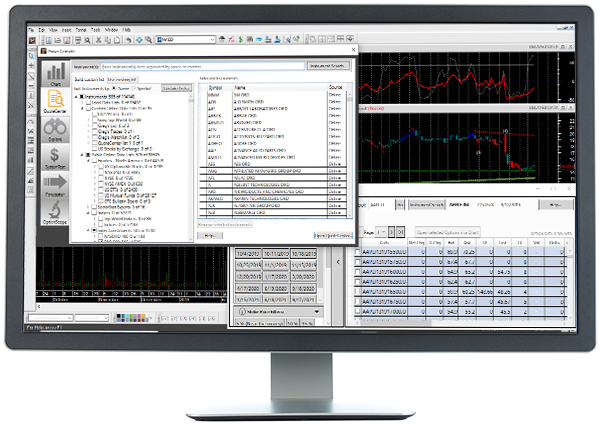 We designed MetaStock Daily Charts for traders who do their analysis after the markets close (If you are interested in real-time trading, check out MetaStock Real Time).
Whether you're an experienced, active trader or just learning to trade the markets, MetaStock Daily Charts helps you succeed. It contains powerful analysis tools to help you decide what to buy and sell and when to execute, resulting in the most profitable trades.
With MetaStock, you can
Scan the market to identify current opportunities based on your criteria
Backtest your strategies and see how well they have performed in the past
Forecast future price action based on past events
Receive expert advice right on your chart based on some of the market's most popular strategies
Monitor lists for performance and keeps the focus on the instruments you are trading
Monitor Option Chains for Sentiment and Plot risk
Use Industry-leading charts to get crystal clear views for your analysis
MetaStock Daily Charts comes with many out-of-the-box trading solutions that are reliable and easy to use. MetaStock Daily Charts allows you to customize these solutions to your particular trading style and take your trades to the next level.
Whether you trade stocks, options, mutual funds, futures, commodities, FOREX, bonds, or indices, MetaStock Daily Charts has the tools you need for superior market analysis and financial success.
MetaStock is flexible enough to help you build and customize lists so you can manage and track your portfolio. It even has powerful option tracking and filtering tools if you trade options.
Of course, the best charting program is only as good as the data that feeds it. That's why MetaStock Daily Charts works seamlessly with DataLink to provide your MetaStock charts and analysis with industry-leading data that is accurate, clean, and dependable.
Here is what one of our customers has to say about MetaStock:
"MetaStock is obviously made by people who understand traders' needs. It's a complete package that's easy to use, no matter what kind of securities you trade. It's the single tool that's allowed me to fine-tune my trading approach, pursue my avocation and build a satisfying retirement."
- Michael Alakel
Check out the testimonials from other satisfied MetaStock clients.
MetaStock Daily Charts can either be purchased for a one time charge or subscribed to on a monthly or yearly basis.
You can purchase MetaStock Daily Charts for a one-time charge with the option to use Refinitiv DataLink or use your data.* You can also subscribe to MetaStock Daily Charts with inclusive data packages based on your trading style.
Check the MetaStock features page for a more detailed overview of MetaStock Daily Charts. You can even view an online video demonstration.
Purchase with Refinitiv DataLink data option
Purchase version for Non-Refinitiv DataLink subscribers with Annual Maintenance ID
Price as low as $59 per month depending on region selected. Each package includes one regional stock package of Refinitiv DataLink, as well as World Wide Futures/Forex, and Global Indices.
Price as low as $635 per year depending on region selected. Each package includes one regional stock package of Refinitiv DataLink, as well as World Wide Futures/Forex, and Global Indices.
Overview Features Support FAQs Upgrade System Pricing
We invite you to try out any MetaStock product (including Add-Ons) for 30 days. If you are not convinced that it helps you make more accurate, educated trading decisions, just return it to us within the 30 days for a refund of the purchase price. It's that simple. This policy does not apply to subscriptions.